Looking to bring your business to the next level?
Well, you should start listening to the business podcasts organized by experts. The small business owners can learn tons of amazing things from these podcasts. You don't need to spare some time to listen to these podcasts. You can simply turn on the podcast while you're driving or doing chores.
You might have to spend some time to find the best business podcasts. But we've made it easier by finding these podcasts for you. After listening to different podcasts for a few weeks, we've found some of the best business podcasts. We regularly listen to these experts as they always share some great ideas and thoughts.
We hope you'd also love listening to them. So, without any delay, let's take a look at our favorite business podcasts.
Masters of Scale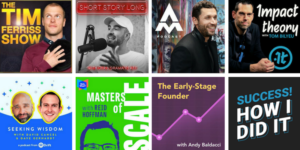 Masters of Scale is an incredible business podcast hosted by Reid Hoffman where he shares a detailed analysis of how different companies grow. Over the years, he has talked to the executives of Airbnb, Facebook, Netflix, Minted and more. It means you'd get to learn the strategies of top business owners through this podcast.
You can see the success stories of different tech startups in this podcast. Masters of Scale offers a variety of perspectives as they try to maintain a 50/50 gender balance for its guests.
Planet Money
Media giant NPR is the organizer of this amazing business podcast. The show can add lots of value to your professional life. They discuss education and economics in a fun and entertaining way. Although they try to make their conversation entertaining, they still make a great impact on the small business owners.
Side Hustle School
The Sidehustle podcast shares the success stories of business owners and entrepreneurs. This podcast mainly focuses on people who started their journey as part-time ventures. So, it's quite a bit unique than other podcasts. If you want to continue your job along with the business, Sidehustle Podcast is the perfect option for you. With this podcast, you can learn ways to make more money without risking everything.
Mom Biz Solutions
As the name suggests, this podcast shares the success stories of mothers who developed a successful business while taking care of the households. However, the podcast is not just valuable for female business owners but the general audience can take advantage of this podcast. This podcast mainly consists of practical topics like measuring financials, outsourcing and more.
Our Favorite Business Podcasts